Description
THE PERFECT BOARD
FOR

ALL-ROUND CONDITIONS
The Stoked is our most all-round board.
It's that board, to jump on and go!
Intermediate to advanced level wave sailors will find the joy in this board.
It handles every type of wave environment: NEW finely-tuned Active Load Distribution Bridle System, side-shore, off-shore; small waves or big waves.

"So yeah, all that is great, but what's its special feature?"
Well, out of our three wave boards it's the fastest one, so it's the board for those more jump-orientated sailors.
The squash tail will create lift for early planing, especially where currents are something to consider.
It has the perfect balance between speed and control, so you can focus 100% on the ramp from which to take off.
On the waves, the squash tail will keep the speed in the bottom turn with ease, allowing for a fluid rail transition with lots of grip, to focus on the top turn.
Its rails simply love to bite, and provide you with a huge amount of grip, so you never have to worry about chop again during a bottom turn or gybe.
What are you waiting for? Be Stoked each time you leave the water!
80 | 85 | 90 | 95 | 105
The shape of the Stoked is based on very smooth lines that define the outline.
A Squash Tail combined with quite parallel rails, Smooth volume distribution keeping the tail thinner to maintain the feeling and allowing the board to grip to the wave face.
Thicker mid/front part of the board to allow the ease of use while getting through the shore break; this combination makes this board feel balanced from the first moment you step on it.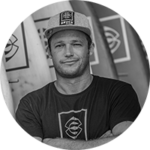 "JUMP ON IT AND GO! HIGH PERFORMANCE FOR ALL LEVELS, THE ALLROUNDER IN ALL ASPECTS, DESIGNED TO STAND OUT IN REAL WORLD WAVES. THAT BOARD YOU WILL BE STOKED WITH!"
Dany Bruch, CEO Bruch Boards