Description
THE PERFECT BOARD
FOR PUMPING WAVES
The Madness is our more classic shaped board; the longest and most narrow in our range. It has a beautiful thin pintail, adapted from the new era of compact wave boards, combining all the qualities of the old school with the virtues of the new school, packed into one board.
We adjusted the rocker to have the perfect combination of early planing and high top end speed, without compromising control. As such, it affords you with the full focus for jumps, or whatever manoeuvre you wish to do.
Designed to excel in 'down the line' conditions, it's also the best cruiser for those, more conventionally-focussed riders.
"Turn-ability?"
Well, as you can imagine, a narrower shape with such a pintail turns with no effort at all.
It lays its rail in the water as if on train tracks, eating chop like nothing else and at the same time, it's the board with the shortest angle or radius of turn-ability, requiring the least amount of power to engage into a turn.
Bottom turns, top turns, gybes … just shut your eyes and DO IT!
It's for the light-footed sailor that yearns for grip and control, to go MAD either in a wave or during a gybe.
72 | 78 | 84 | 88 | 94 | 98 | 108
The shape of the MADNESS is based on very smooth lines that define the outline.
A pin tail combined with a quite straight outline along the rails.
Smooth volume distribution keeping the tail thinner to maintain the feeling and allowing the board to grip to the wave face.
Thicker mid/front part of the board to allow the ease of use while getting through the shore break;
This combination makes this board feel balanced from the first moment you step on it.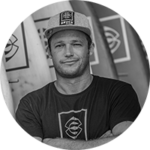 "THAT DREAM BOARD YOU ALWAYS WANTED. NO LIP TO STEEP TO HIT, L NO MORE UN-HACKED OPEN FACES, NO MORE AERIAL SECTIONS YOU DIDN'T FLY OVER. THIS BOARD IS, AS IT'S NAME SAYS, MADNESS TO RIDE!"
Dany Bruch, CEO Bruch Boards